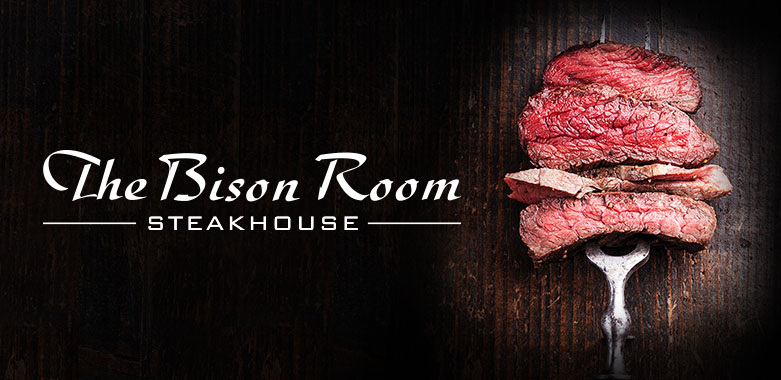 New Hours and Menu
To accommodate The Cache and Corner Café closing, The Bison Room now has an updated menu and hours.
Tucked in the southwest corner of 4 Bears Casino & Lodge, the Bison Room Steakhouse overlooks beautiful Lake Sakakawea. This fine dining restaurant features North Dakota prime beef, fresh seafood and delectable desserts.
With an expanding  menu, gourmet specials and seasonal favorites, the Bison Room Steakhouse offers a dining experience to remember. Follow us on Facebook for daily specials and seasonal menu items.
NEW HOURS:
Monday & Tuesday: 12 PM-8 PM
To Go Food Only:

1/2 pound Bacon Cheeseburger
Fried or Grilled 8oz Chicken Sandwich
Chicken Tender Basket
All food will be accompanied with a choice of chips or fries and a drink
Wednesday & Thursday: 11 AM-9 PM
Friday: 11 AM-10 PM
Saturday: 8 AM-10 PM
Sunday: 8 AM-9 PM
*Event Nights: Closes at midnight

Reservations: 701-627-7502
Join us for a very special Valentine's Day Dinner in the Bison Room!
Tuesday, February 14| 3 PM – 10 PM | Call to Make a Reservation
Couples Meal: $100  Single Meal: $65
Menu:
Appetizer Trio
Balsamic Glazed Tenderloin Skewers
Bourbon Glazed Chicken Skewers
Pomegranate Shrimp Ceviche Shooters
Entree
Garlic and Herb Roasted Half Chicken
16 0z T-bone Steak
2 (40z) Lobster tails
*All entrees will be accompanied by a baked potato and baked squash medley.
Dessert
Cherry Bomb Cake
Chocolate Mousse Shooters
Refreshments:
Coke products
Water
Sweet/Unsweet Tea
Lemonade
Wine:
Red- Cabernet or Merlot
White- Chardonnay or Pinot Grigio
Dessert- Riesling or White Zinfandel
All individuals 21 and over will be provided 1 free glass of champagne.