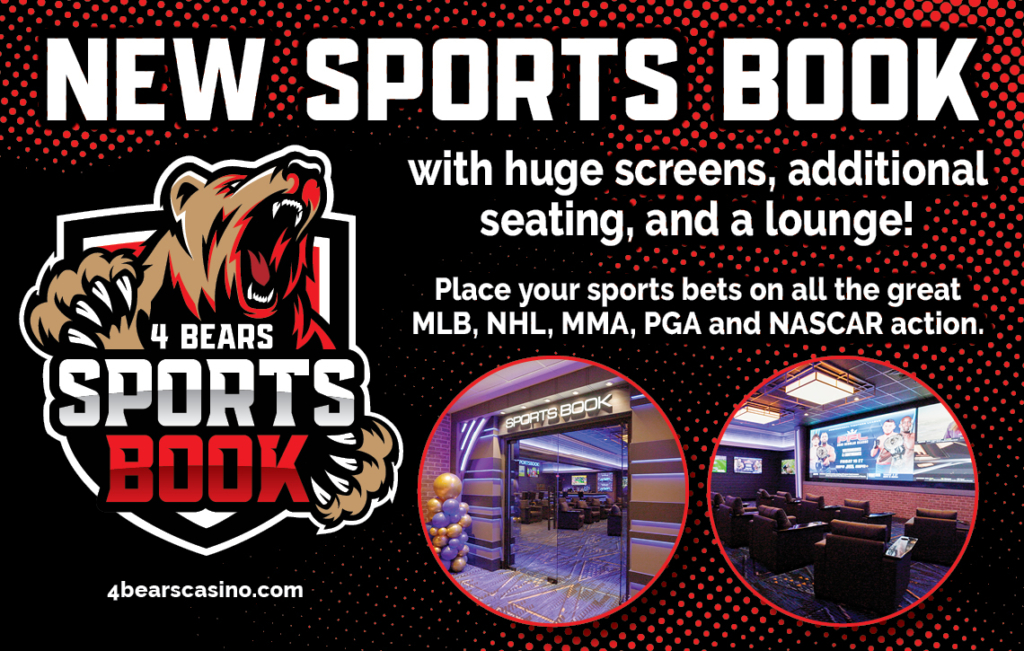 Sports betting at 4 Bears!
Place a $25 or more sports wager and receive a free drink!
(one free drink per day)
Our Vegas-style sports book is newly remodeled. With all the wagering options, there's a bet ready for almost anything.
Onsite staff to take bets
Self-serve kiosks
Comfortable seating
Flat-screen TVs
NFL • NBA • MMA • MLB •  NHL • NASCAR • Horse Racing • PGA Golf
You name it, we've got it at 4 Bears Sports Book. Must be on property to wager.
Sports Book Private Parties
Host your next gameday party in our sports-lovers paradise. Book the 4 Bears Sports Book for private events up to 30 people. We have package options so you can customize your party. Hold your fantasy draft party in our newly remodeled Sports Book!
NFL SPORTS PACKAGE: Lounge/big screen side- $500*
(MAXIMUM OF  25 PEOPLE)
NO PLAYOFFS
PPV EVENT: Lounge/big screen side- $1000* includes prelims and event
(MAXIMUM OF 25 PEOPLE)
Bar side meetings – $500* for 4 hours. 8 AM-4 PM
(MAXIMUM OF 30 PEOPLE)
PRE SEASON DRAFT PARTY- SEE SPORTSBOOK FOR MORE DETAIL
*Food packages not included, but are available. See Sports Book staff for pricing.
NFL SEASON RENTAL TIMES
SUNDAYS: 11:30 AM-3 PM and 6:30 PM-11 PM
MONDAY NIGHT FOOTBALL: 6:30 PM-11 PM
THURSDAY NIGHT FOOTBALL: 6:30 PM-11 PM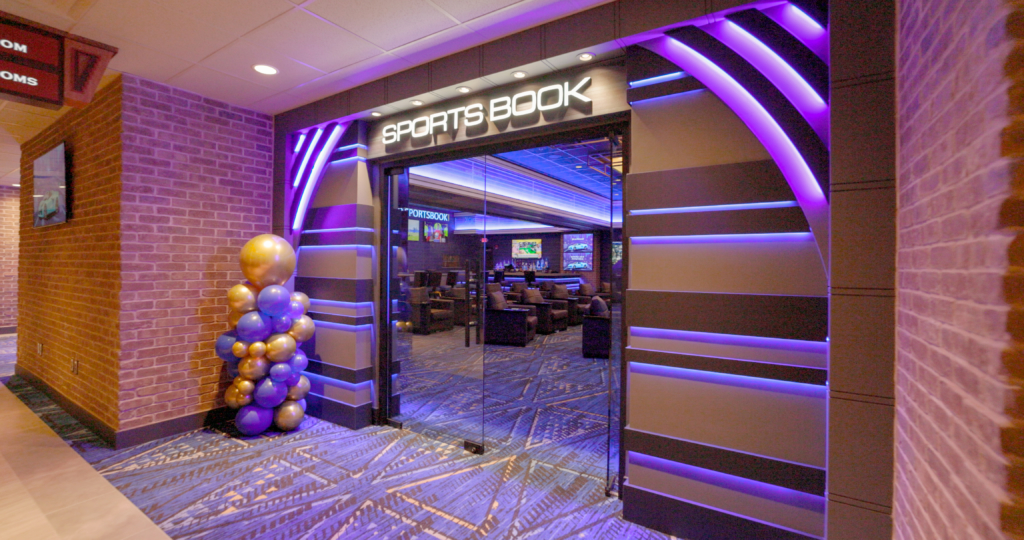 SPORTS BOOK HOURS:
Mondays 11 AM-11 PM
Tuesdays/Wednesdays 11 AM- 11 PM Kiosk betting only. (Sports Book is set up with automated kiosks, place any bet you want. The kiosk gives you your ticket.)
Thursdays 11 AM-11 PM
Fridays 11 AM-12 AM
Saturdays 9 AM-12 AM
Sundays 9AM-11 PM
During boxing and MMA pay per view Sports Book will stay open a half hour after events for payouts.
Not a Players Club member? Join today to participate!